Anna Berman presents Brothers and the Family Plot: A Comparative Approach to the 19th-Century Russian and English Novel
April 17, 2017
4:00 PM - 5:30 PM
Cabell Hall 309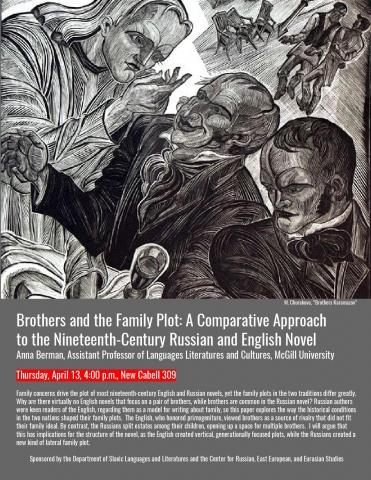 Anna Berman, Russian Studies, McGill University.
Brothers and the Family Plot: A Comparative Approach to the 19th-Century Russian and English Novel.
Family concerns drive the plot of most nineteenth-century English and Russian novels, yet the family plots in the two traditions differ greatly. Why are there virtually no English novels that focus on a pair of brothers, while brothers are common in the Russian novel? Russian authors were keen readers of the English, regarding them as a model for writing about family, so this paper explores the way the historical conditions in the two nations shaped their family plots. The English, who honored primogeniture, viewed brothers as a source of rivalry that did not fit their family ideal. By contrast, the Russians split estates among their children, opening up a space for multiple brothers.  I will argue that this has implications for the structure of the novel, as the English created vertical, generationally focused plots, while the Russians created a new kind of lateral family plot.
Organized and sponsored by the Department of Slavic Languages and Literatures. Co-sponsored by the Center for Russian, East European, and Eurasian Studies.